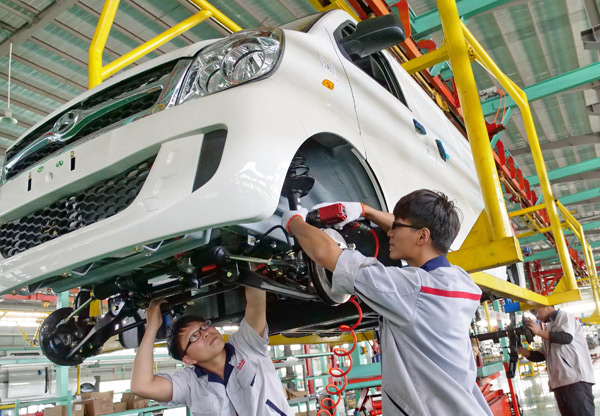 Chinese carmaker Beijing Automotive Group Co will phase out conventional fuel-powered cars under its own brand by 2025 as part of its ambitious new energy car campaign, according to a top company official.
"Our goal is to stop sales of self-developed conventional fuel-powered cars in Beijing by 2020 and stop their production and sales nationwide by 2025," said BAIC Group Chairman Xu Heyi.
In addition to its own BAIC-branded cars, the group also has carmaking joint ventures with South Korean carmaker Hyundai and Germany"s Daimler AG, owner of the Mercedes-Benz brand.
Xu made the remarks over the weekend at an event to commemorate the opening of a new energy car technology and innovation center it set up in Beijing along with 14 institutions, including its new-energy car arm BJEV, Tsinghua University and battery maker CATL.
The facility is expected to build an open platform that will better mobilize global innovative resources and facilitate cooperation among companies, universities, research facilities and even users, BJEV said in a news release.
Xu Qiang, head of the Beijing Municipal Science and Technology Commission, said the center is an important and practical move to promote cooperation and improve innovative capabilities and core competitiveness in the field.
The move comes at a time when new energy cars are gaining momentum in China, which is the world's largest market for such cars.
From January to November, China sold 609,000 new energy cars, a 51.4 percent growth year-on-year, according to the China Association of Automobile Manufacturers, which estimated that overall sales in the category could reach 700,000 units.
BAIC Group is one of the country's leading new energy carmakers, with BJEV selling 21,598 cars in November, an 85 percent surge from October.
The performance has brought its sales in the first 11 months of this year to more than 88,000 units.
At last month's Guangzhou auto show, BJEV Deputy General Manager Zhang Yong said the company will invest some 10 billion yuan ($1.5 billion) on research and development in the next three to five years and launch two to three new models every year.
It also plans to launch 500,000 new energy cars for the taxi and ride-sharing sectors in 1,000 cities by 2022.
To solve the problem of slow charging, the carmaker announced earlier this year that it will invest 10 billion yuan to build 3,000 solar-powered battery changing stations.