Greater integration will spur innovation and cultivate new engines of growth
China will strengthen innovation by developing high-tech industries with military technologies to boost military-civil integration, a move that aims to cultivate new growth drivers and boost the economy, said a recent State Council guideline.
This was one of the seven key tasks set by the guideline on deepening the military-civil integration in the defense technology industry, which was released by the State Council, China"s Cabinet, on Monday last week.
The guideline targets sharing technological innovation bases and facilities between military and civilian sectors while more efforts will be made to apply military technologies to non-military areas.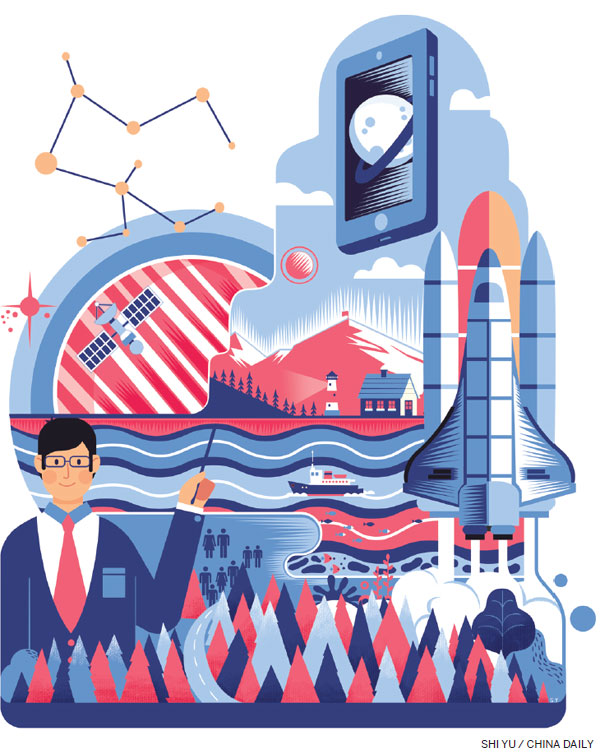 The military integration will also focus on key areas such as space, cyberspace and maritime sciences, while private capital is encouraged to enter military industries, the document said.
The guideline was the latest move by the central government to promote the military-civil integration to widen military contract orders to civilian sectors and apply high-end military technologies for civilian purposes as part of the supply-side structural reform.
In June, the General Office of the State Council released a guideline on civil aviation development to open airspace less than 3,000 meters in altitude and other industries such as cybersecurity and satellite navigation.
Shi Haiming, an associate professor at the National University of Defense Technology, said the guideline brings benefits for both private and military enterprises while pre-entry approvals will be changed into post-entry reviews to streamline administration, except those linking strategic weapons.
Meanwhile, Shi said the guideline lowers the access threshold for enterprises to enter the field of weaponry equipment and will make the process more transparent.
The document also will further reduce institutional costs for private enterprise by building better platforms to promote military-civil integration, he said.
In fact, many developed economies are highly reliant on military-civil integration.
For example, the United States' airplane maker Boeing sells China civil aviation aircraft worth billions of dollars each year and is known for its high-end military aircraft. Many Japanese multinational companies such as Toshiba and Mitsubishi have a department to take military orders.
The integration is a worldwide trend to fully improve the national defense capability, said Jiang Luming, a professor at the National Defense University of the People's Liberation Army.
In countries such as the US, the United Kingdom and Germany, less than 15 percent of military technologies are solely for military purposes and more than 80 percent are used for civilian purposes, Jiang said.
Jiang said in October last year that China has about 290,000 national defense intellectual property rights not being used due to the previously separated military and civil industries.
For example, breakthrough technologies such as engines and aluminum alloy materials can help ease production overcapacity and transform China's economy, he said. These new technologies can essentially boost economic growth and national defense, Jiang said.
The military industry has the priority to apply cutting-edge technologies and also make breakthrough innovations, Lu Guangshan, chairman of the Avionics System Co under the Aviation Industry Corporation of China, was quoted by Shanghai Securities News as saying.
"For example, virtual reality headsets were first used in helmets for fighter jets and my company has developed six civilian industries such as virtual reality, drones, robotics and smart wearing," Lu said.
Military companies are encouraged to work with local governments to promote their advantageous expertise and develop a large number of new high-tech industries, Long Hongshan, chief engineer at the State Administration of Science, Technology and Industry for National Defense, told a news conference last week.
These new industries will play a vital role in promoting local economic growth and creating new employment opportunities, Long said.
Currently, 30 percent of products made by China's military companies are for military purposes and the other 70 percent for civilian purposes, he said.
In the future, high-tech industries will cover half of the military-related economy, Long added.