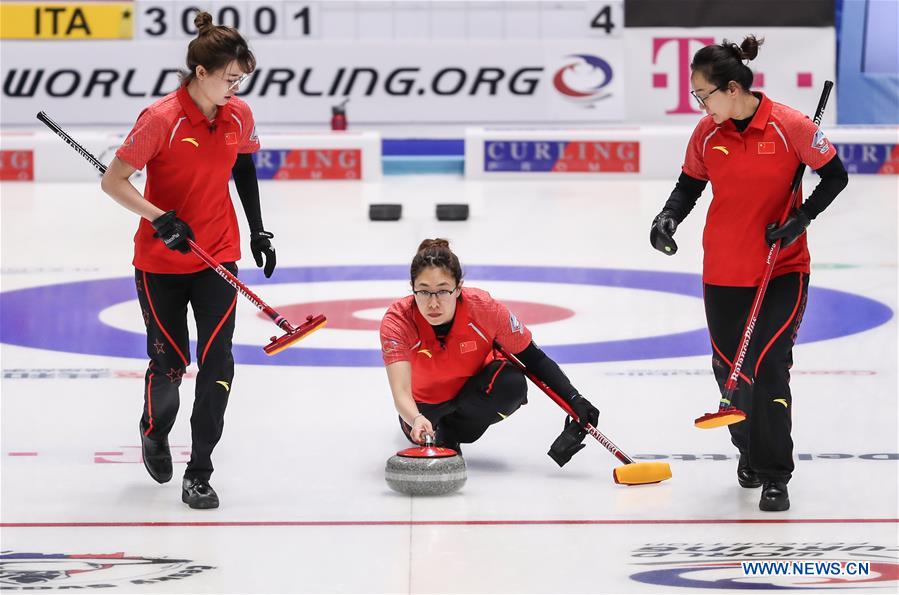 PRAGUE – The Chinese women's curling team became the first to gain a place at the PyeongChang 2018 Winter Olympic Games through a qualification event on Saturday.
The event, staged in Pilsen, the Czech Republic, saw the former world champion beat Italy 11-4 to secure the berth.
Italy still has a chance to book a place at the Olympics when they face Denmark, who finished third overall at the end of the round-robin, in Sunday's second qualification game, winner of which joins the nine teams having already qualified.
The curling competitions of PyeongChang 2018 will have 10 teams each to compete in the men's and women's events, with seven teams earning qualification points from the 2016 and 2017 world championships, two through the qualification event in Pilsen, while South Korea qualifies automatically as the host nation.
For the first time, mixed doubles curling will be contested in the Winter Games, with eight teams to compete in a round-robin preliminary round and the top four finishers to qualify for the medal round.
In Saturday's qualification game, Italy opened the scoring when skip Diana Gaspari drew her final stone of the first end to score three points.
China, however, dominated from then on, stealing three points in the third end and then four points in the fourth end on the way to an 8-4 half-time lead.
A score of one point in the sixth end and further Chinese single point steals in the seventh and eighth ends were enough to persuade Italy to concede after eight ends with the final score at 11-4.
For China's skip Wang Bingyu and third Zhou Yan, this will be a third Olympic appearance, having previously played in Vancouver (2010), where they took the bronze medals, and Sochi (2014).
"It feels so great. This is the third time at the Games. It wasn't easy for me or the team, but we tried our best and we're going there. We're so happy!" said Wang after the game.
"I think everyone was a little nervous, and we made some mistakes, but we didn't lose ourselves, we just kept calm and played one rock at a time. This is a big thing for me and the team. I think everyone at home will be proud of us," she added.
Earlier, in a dramatic final men's round-robin session, Denmark beat Italy 8-3 to consolidate their position as first-placed play-off qualifiers. Italy and hosts Czech Republic also qualified for the men's play-offs.