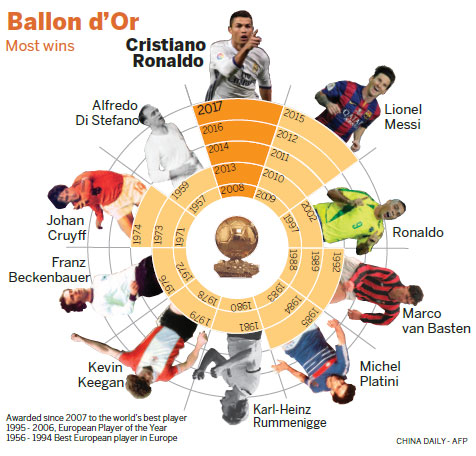 Portuguese superstar equals Messi"s haul in year-end accolade
PARIS – A decade of dominance by the world's two best soccer players has left Cristiano Ronaldo and Lionel Messi tied with five Ballon d'Or awards each.
Ronaldo, who once trailed his Argentine rival 4-1, pulled even by winning the year-end award again on Thursday.
"With Messi the fight continues, in a good way," Ronaldo said after being presented the trophy awarded by France Football magazine at a ceremony held at the Eiffel Tower in Paris.
Messi was second in the voting and Neymar, who left Barcelona in the offseason to join Paris Saint-Germain for a world record transfer fee of $264 million, was third.
Overall, Messi has a very slight edge.
The 30-year-old Messi has been runner-up to Ronaldo every time the Portuguese icon has won, while Ronaldo has been runner-up to Messi four times.
The exception was in 2010, when midfielder Andres Iniesta – Messi's brilliant club teammate – finished second after scoring the winner for Spain in the World Cup final.
Ronaldo did not make the podium that year, with Barcelona and Spain midfielder Xavi taking third place.
He has bounced back to win the last two.
Ronaldo was shown on television receiving his latest award while making the sign of five with his left hand and holding up the trophy in his right.
"Of course, I feel happy, it's a big moment in my career," Ronaldo said. "It's something I hope to win every year."
The 32-year-old forward also took home the Ballon d'Or in 2013 and 2014, and in 2008 when playing for Manchester United.
Messi won it from 2009-12 – with Ronaldo runner-up three times during the period – and in 2015 ahead of Ronaldo and Neymar.
Ronaldo claimed it back last year after helping Portugal win the European Championship and starring for Madrid as it won the Champions League.
"Thanks to my Real Madrid teammates," Ronaldo said, adding: "I want to thank the rest of the people who helped me reach this level."
Last season he won the Champions League once again – scoring twice in a 4-1 rout of Juventus in the final – and played a key role as Madrid won the Spanish league title for the first time since 2012.
His league tally of 25, however, was his lowest since joining the club in 2009.
Ronaldo is the all-time leading scorer in the history of the Champions League, with 115 goals.
"If he can score 10 times in training he will, that's what impresses me," Real Madrid coach Zinedine Zidane said. "His ambition impresses me. I'm proud to be his coach."
He set another competition record on Wednesday, scoring in Real Madrid's 3-2 win over Borussia Dortmund to become the first player to find the net in all six group-stage matches.
It took his tally to nine so far, but in La Liga it has been a very different story during this campaign.
In August, he was banned for five games after shoving referee Ricardo de Burgos Bengoetxea in the back following his red card during a 3-1 victory over Barcelona in the Spanish Super Cup.
He missed the return leg of the Spanish Super Cup in Madrid plus the first four matches of the Spanish league season.
Since then, he has managed a meager two goals in 10 games and Madrid is fourth – already eight points behind leader Barcelona after 14 matches.
Messi is already well clear with 13 league goals.
Meanwhile, veteran goalkeeper Gianluigi Buffon was fourth on France Football's list.
The 39-year-old Italian helped Juventus reach the Champions League final and win the Italian title for the sixth straight season.
Croatia midfielder Luka Modric and Spain defender Sergio Ramos – both Ronaldo's teammates – were fifth and sixth respectively.
Teenage star Kylian Mbappe finished seventh after helping Monaco win the French title and reach the Champions League semifinals. He joined Neymar at PSG this season in a deal worth $216 million – the second largest ever.
Chelsea midfielder N'Golo Kante, Bayern Munich striker Robert Lewandowski and Tottenham striker Harry Kane completed the top 10.
PSG striker Edinson Cavani was surprisingly 11th despite scoring a career-high 49 goals in all competitions last term.
The last player to win the Ballon d'Or before either Messi or Ronaldo was Brazil midfielder Kaka – who starred for AC Milan when it won the Champions League in 2007.
Associated Press