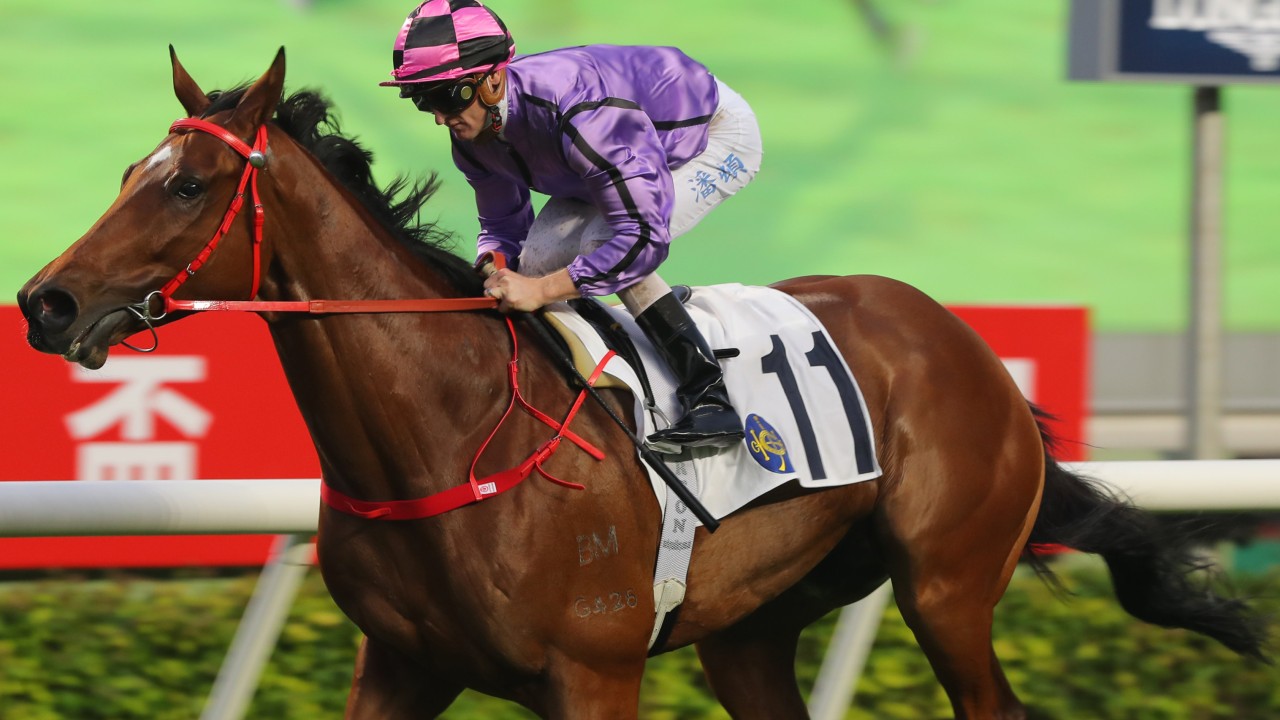 Another meeting, another record for Zac Purton, who four days after becoming the most successful jockey at Happy Valley became the first rider to register 50 wins before December.
Purton's all-the-way success aboard Sweet Encounter in Sunday's Class Three Chevalier Enterprise Digital Solutions Handicap (1,600m) – the fourth leg of his $212 five-timer at Sha Tin – saw the champion jockey raise the bat for his 50th victory this term during this season's 22nd meeting on what was his 184th ride of this campaign.
Not even a typhoon signal No 8, which forced the cancellation of the Happy Valley programme set for November 2, or a Covid-19 infection, which led to Purton sitting out the November 16 meeting at the city circuit, stopped the Australian rider beating not only his fastest 50 but also the record that Joao Moreira established in the 2015-2016 season.
Never before had Purton posted 50 victories earlier than the January 5 dates on which he reached the milestone in 2014 and 2020. Moreira brought up his fastest half-century of wins on December 6, 2015.
"We had the typhoon – we lost a meeting there – and I had the week in isolation, so I lost a meeting there as well, so it hasn't been completely smooth sailing," said Purton, whose tally of 51 triumphs this term is 30 more than the second ranked Vincent Ho Chak-yiu.
"I've a good pool of trainers – and owners as well – who are giving me support. You need that to be able to ride a winner anywhere, especially here.
"Things are going well at the moment. I've some nice younger horses coming through as well. They're always exciting, and they can win multiple races. That certainly will help and make things easier.
"But I've a big task ahead of myself. I'm committed to trying to break the record [of Moreira's 170 wins] this season, so that's what I'll try to do."
Sweet Encounter, the John Size-trained four-year-old on whom Purton took over from injured rider Alexis Badel, improved his statistics to three victories from four starts and advertised his Classic Series credentials two months out from the Classic Mile.
"The start was the most important part for him. It didn't look like there was a lot of speed in the race, although a number of horses then decided to push forward," said Purton of the galloper who transported him to his 50th win this season.
"He didn't fly out of the gate, but he began well enough to take advantage of the faster gate speed he's got. Then it was a matter of getting him into his rhythm, letting him enjoy the tempo of the race and hoping he had enough at the end, which he did.
"He's pulled up well, so I think he enjoyed that, and hopefully, he can continue on his path as well."
Purton's day had begun in disappointing fashion – he awoke to the news two of his mounts, Ka Ying Warrior and Beauty Eternal, were out due to a swollen leg and lameness, respectively – and Sunny Baby missed the top three in the second race on the card.
But Purton was victorious in five of his last seven rides, the wins of Youthful Deal, Accelerando, Super Red Dragon, Sweet Encounter and Packing Treadmill punctuated only by the losses of Midori Beauty and, perhaps most frustrating, Beautyverse, for whom nothing went right in the meeting's main event.
What did go right, though, was Purton's bold move to put Class Four Chevalier E & M Engineering Handicap (1,400m) victor Super Red Dragon on the speed from barrier 14, against the Chris So Wai-yin-prepared horse's pattern. So did not issue pre-race instructions to Purton, but he showered with him praise afterwards.
"Genius," was So's one-word description of Purton.
"I told the owner, 'Hey, this is the second time Zac wants to ride, I think we've got a good chance, at least he won't pick other horses to beat us'.
"That's why I said, 'Champ, I'll let you do your job. [Position him] wherever you want. Try your best. Give him a chance to hit the line'. He did a really, really good job. He's a champion jockey."
Comments